Physical geography is one of the most decisive factors determining the success of cycling as day-to-day transportation:
1- The breeding ground has to be flat
2- The terrain should have no slopes
3- Did I mention already that there should be no hills?
4- The climate should be acceptable to get outside 7/7 days of the week, 12/12 months of the year.
These climate and terrain factors are hardly important for recreational cycling, in which hills, a snowpack, -30 or +30oC can actually add to the fun. However, a
4 months snowpack and -30oC effectively prevents most from cycling. Let alone, bringing their 4 years old kid to school on the back of a bike, a very Dutch habit (as shown on my protective mother pictures in my previous blog).
Also, i
t's suddenly not funny at all if your 70 years old neighbour has to go uphill in the burning sun with her groceries.
This last example is based on a real echo from the past that I've seen in France. My parents 70 years old neighbour is very poor and cannot afford a car. She was using a shaky French 60ies bike to get her groceries from a village 6 km away. Only 6km? Nice cycling distance?...well...one could hardly call it cycling according to modern standards. It was some kind of a fast way of walking. Down hill and on the flat parts it went OK, but on her return home, she had to push her bike with groceries onto a steep hill, ~100m higher. It was a heartbreaking sight, eventhough it hardly mattered to her because she'd done it like that most of her life. Her 20 years old daughter couldn't bike uphill either, cycling with any kind of baggage through hills is true sports. Nowadays, my mother is taking the old lady to the shops by car. Now, nobody cycles there anymore to do shopping...
Then an important question for a later post: would cycling infrastructure have changed the decision of this old lady to get onto her bike yes or no? I think not. Although cycling was an incredibly bad way of transportation for her, walking would have been much worse. Personally, I think it wasn't very safe to modern standards, but this is what happens if people have no other choice.
Cycling was a great improvement over walking in the early 20th century in such area's, but it was very quickly abandoned as soon as one could afford any kind of motorized transport. Thinking that one can get back the bike as day-to-day transport in such geographical areas is highly romantic, but lacks any feeling for realism. Unless one pushes the people back into deep poverty leaving them no other choice. Or unless there is breakthrough technology. E.g. electrically assisted bikes with a much higher range than an electric moped. Until then, a Dutch-type cycling infrastructure in such areas would be a complete waste of money, serving no more than a few recreational hobbyists. Let alone that the costs for such infrastructure would be inevitably much higher in mountainous areas than on flatlands.
Would you be willing to spend your tax money on getting a Dutch-type cycling infrastructure with separated cycling paths here?

This separated cycling path in the middle of nowhere (province Groningen) costs hardly anything extra.
Then why should the climate be acceptable 24/7? This could be disputed, but if one wants to change habits, people should be exposed intensively to the new idea, not just every now and then. Check out theories on advertisement strategies. This climate effect is also reported by Kevin Champagne. His blog is great,
http://myquestforfun1.blogspot.nl/
, but I suspect cycling in Canada will stay mainly recreational. Kevin himself is exceptionally eccentric, using not just a regular bike, but a velomobile through snow and -30oC to get to work. However, even this guy keeps his car ready, just in case...
In conclusion, we should not confuse our own love for cycling with the much more practical transportation needs of the masses. Cycling by the masses has to be easy and relaxed, not a heavy exercise. Terrain and climate should facilitate that.
The Netherlands do comply mostly to these rules, and especially in the Randstad with its connected tentacles into Brabant and Gelderland, the RBG region.
Climate - The Dutch compared to some other countries
I'll be short on The Dutch climate. It's very mild.
http://nl.wikipedia.org/wiki/Nederland#Klimaat
Lowest average temperature is 0.2oC, highest average is 22.8oC. Ideal for cycling. Rainfall is never more than 83mm per month. We always complain about the weather, but in practise it doesn't rain that much.
Weergemiddelden voor De Bilt (1981-2010), extremen voor Nederland (1901-2010)

Maand
jan
feb
mrt
apr
mei
jun
jul
aug
sep
okt
nov
dec
Jaar
hoogste maximum (°C)
17,2
20,4
25,6
32,2
35,6
38,4
37,1
38,6
35,2
30,1
21,1
17,8
38,6
gemiddeld maximum (°C)
5,6
6,4
10,0
14,0
18,0
20,4
22,8
22,6
19,1
14,6
9,6
6,1
14,1
gemiddelde temperatuur (°C)
3,1
3,3
6,2
9,2
13,1
15,6
17,9
17,5
14,5
10,7
6,7
3,7
10,1
gemiddeld minimum (°C)
0,3
0,2
2,3
4,1
7,8
10,5
12,8
12,3
9,9
6,9
3,6
1,0
6,0
laagste minimum (°C)
-27,4
-26,8
-20,7
-9,4
-5,4
-1,2
0,7
1,3
-3,7
-8,5
-14,4
-22,3
-27,4
neerslag (mm)
69,9
55,8
66,8
42,3
61,9
65,6
81,1
72,9
78,1
82,8
79,8
75,8
832,5
http://nl.wikipedia.org/wiki/Nederland
Note that the extremes have been measured only once in a 110 years.
In the western world, the list is pretty short of countries with comparably ideal climate:
1- UK, even milder
2- Belgium, practically the same, only the Ardennes region is a slightly more extreme land climate
3- Denmark, practically the same, but a bit colder
Then there is a whole list of European countries with more complex climate zones or a more land climate: Southern Scandinavia, Germany, France, Switzerland, Austria, Poland, Tchech Rep., Slovakia, Hungary, Baltics etc.
Any country south of France is simply too hot to do relaxed cycling during a significant part of the year. Nothern Scandinavia is too cold.
Nicely flat, those Spanish meseta's. But the climate is a real hell, turning it into noman's land. I still think there should be humans to have cyclists. And they should not spontaneously incinerate if they step onto a bike.
In North America, the situation is even worse in general, and only the west coast has a mild climate. But St Andreas Fault makes it too mountanous for a large part.
San Francisco. Great climate for cycling, California is the 10th economical power in the world, so it could put serious weight to the table for cycling. But euh, did anybody photoshop this picture? No, it's real.
http://commons.wikimedia.org/wiki/File:San_Francisco_Street_on_Nob_Hill.jpg
Terrain - The Dutch compared to some other countries
Elevation map of The Netherlands. One can clearly see De Randstad (Ring-city) in the centre-west as a series of orange flocks. The southern tentacle in Brabant is visible as smaller flocks on the rim between yellow and green in SE-NW direction. Only Eindhoven is a bit into the yellow. The Gelderland tentacle is a bit more difficult to see, but remains south of the big yellow blob in the centre east (the Veluwe). Completely at the bottom, south east, at the point where 3 countries (Netherlands, Belgium and Germany) meet, the Vaalser Berg in South Limburg. Wall map of De 12 provicien. http://www.dezwerver.nl/r/europa/nederland/c/wandkaarten/land-kaarten/0428740666308/wandkaart-hoogtekaart-van-nederland-12-provincien/
On the terrain aspect, one can make easily an ill comparison between The Netherlands and Denmark on elevation. The highest point in The Netherlands is 323m , The Vaalserberg in South Limburg
http://nl.wikipedia.org/wiki/Lijst_van_hoogste_punten_in_het_Koninkrijk_der_Nederlanden
. The highest point in Denmark is Mollehoj 171m
http://en.wikipedia.org/wiki/Geography_of_Denmark
.
So, Denmark is more suitable for cycling than The Netherlands! Of course it's not. As indicated in my previous post, everything in The Netherlands is determined by the Randstad and the two tentacles on it forming the RBG region (previous post). The Vaalserberg is in the most southern part of the Netherlands, far far away from this region. So, we should leave this 323m out of the equation. I wouldn't be surprised if one can find actually a lot of cycling infrastructure on the Vaalserberg - that's called cultural pressure (from the RBG region).
Cycling to the highest point near Yding on Jylland, Denmark. Beautiful outlook over an endless series of seemingly friendly hills, but the legs hurt too much to make it comfortable. Denmark has no high mountains, but isn't flat at all.
This is relaxed cycling for the masses. Somewhere in Noord Holland.
In the RBG region, The Netherlands does hold its reputation of the flattest of countries almost perfectly. Only the Utrechtse Heuvelrug puts a hill inbetween Utrecht and Amersfoort, De Amersfoortse Berg, an irritating 44m high. Railways and highways just flow around it. Only cyclists from Utrecht to Amersfoort have to climb it. It did prevent me from cycling weekly the track Utrecht - Amersfoort, amongst with some other aspects. Yes, I was lazy, but I also had free public transport.
The same hills of the Utrechtse Heuvelrug endanger the track from Utrecht to Arnhem, with a staggering 69m high Amerongse berg. But this time, all traffic can flow around it. Arnhem itself is located at the foot of The Posbank (up to a bit over 100m), on the banks of the river Rhine. Also this time, all RBG traffic flows along it, together with the river. Only inside Arnhem city there are some steep hills, making Arnhem the exception in the RBG region. For the rest, it's anywhere between -4 and 20m.
An important geographical aspect is in the Dutch river delta. Whereas other countries have steep, fast flowing rivers, the rivers in The Netherlands are near the end of their journey and form a slowly flowing delta with only little differences in height. As most cities in the RBG region are located near such rivers, and are connected with eachother by these rivers, these is only little difference in height between them. Water always takes the easiest route here.
This has brought me to a bit of social geography. It's no coincidence at all that these cities are connected like this: the Dutch cargo still goes for a large part over the water instead of over land and does so already since the middle ages. Consequently, most major RBG town centres have emerged on river banks. It's even in their very names:
Amsterdam - dam over the river Amstel - still a large cargo harbor
Rotterdam - dam over the river Rotte - the largest cargo harbor in the western world
Utrecht - Rhenum Trajectum - latin for passage through the river Rhine
Amersfoort - 'Voorde', passage, through the river 'Aam', Eem nowadays
Leiden - Not exactly clear, but it has to do something with water, maybe the river Leyte
Delft - 'Gedolven' waterloop, digged(!) canal.
Nijmegen - New plains (for market trading), no water mentioned, but it is a flat area near rivers.
Breda - Brede Aa, a wide stretch of water, or completely different, 'land between two waters'.
This should be enough to make my point. Thank you Wikipedia.
So, it's not just that the most important areas in The Netherlands are in the flattest part, they are also connected with each other through the flattest tracks possible: the arms of a slowly streaming river delta. How different from any other western country. Denmark and the UK might have their cities at riverbanks and coastal lines like the Dutch, but on the landside, they are isolated from eachother by hills and mountains. They both have a completely different geography as compared to the Dutch.
The UK isn't exactly flat...but one can identify a few flat regions. http://en.wikipedia.org/wiki/File:Uk_topo_en.jpg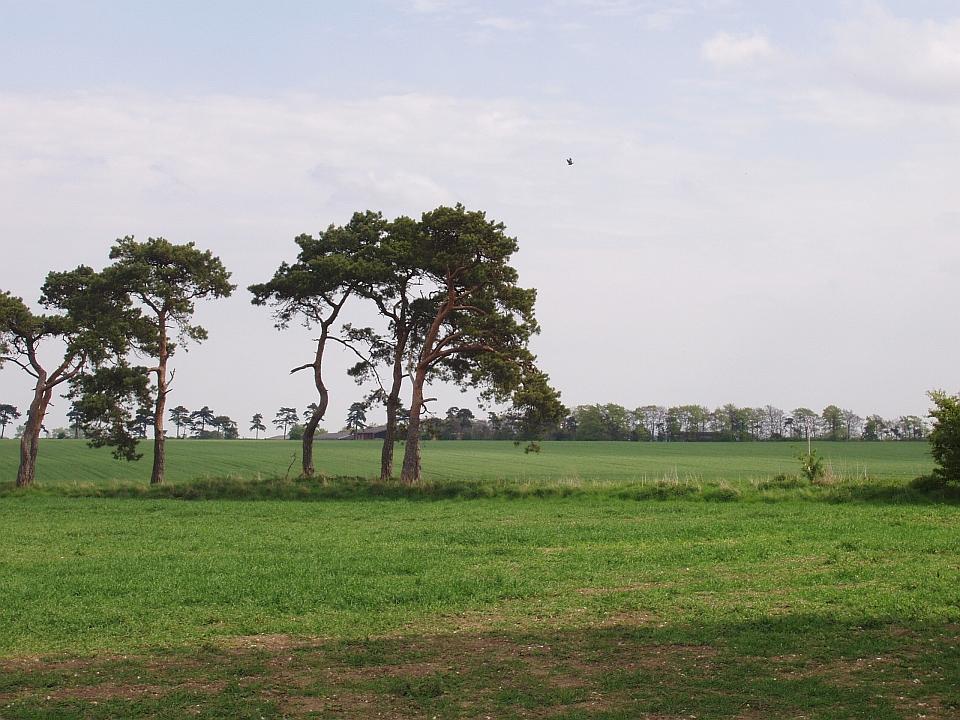 E.g., Cambridgeshire. Indeed, it almost looks like The Netherlands. 806,700 people are living there. That's already 1.3% of the UK population. Will they turn the entire UK into cycling paradise?
http://en.wikipedia.org/wiki/Cambridgeshire#Geography
Germany (Ruhrgebiet) has most of their cities more upstream of rivers. Those rivers are floating faster through steeper and higher hills and mountains and one has to go uphill inevitably. Pretty much the same for most parts of Nothern America, Spain, Portugal, France and Austria, not to mention Switzerland, Italy, Greece, former Yugoslavia and so on. I'll tackle the Nothern Americas with their social geography, but in short, their climates and landscapes are too complex to achieve any popular cycling as universally as in The Netherlands.
Ruhr gebiet in Germany. Ideal for cycling from social geographical perspective: a strong economical power, so potentially a lot of lobbyists - but too many hills, so bicycles are not popular. Andrees Handatlas, 1914.
What's left over are just bit and pieces of terrain that are only a minor fraction of these countries, suitable for day-to-day cycling. On these pieces, like Camebridgeshire, one could achieve something in theory, but never with the power of the Dutch RBG region that holds the power for 80% in the country. Inevitably, it will be a small lobby in Camebridge and they do have trouble keeping their cycling infrastructure
http://www.aviewfromthecyclepath.com/2013/04/the-netherlands-sets-best-example-but.html?utm_source=feedburner&utm_medium=feed&utm_campaign=Feed%3A+AViewFromTheCyclePath-DavidHembrow+%28A+view+from+the+cycle+path+-+David+Hembrow%29
- for obvious reasons
http://magicbulletmango.blogspot.nl/2013/04/why-cyclists-lobby-will-never-be.html
.
I'm sorry again, but physical geography dictates that most of the other countries will have to move more than a single mountain to achieve anything near Dutch cycling popularity. My recommendation: simply wait for break-through technology.
A note afterwards.
If you still don't believe me on the hills, then check out
this
. Even Dutch don't cycle if there are hills: cycling drops dramatically for all communities in the hills of South Limburg (bottom right).
Also, I didn't address wind in this post in the climate part. On flat terrain, like The Netherlands, it can be quite windy, which makes cycling difficult, as David Hembrow
states
. But so it can in mountanous areas. Ask the French about their Mistral and Sirocco, or experience the Fohn in Switzerland and Austria. Go to the Rocky Mountains and name a helicopter after the Chinook. These winds are so strong and disturbing that they even got a name. Also in not so famous areas with not so famous mountains, they have a not so famous but still very strong winds, e.g.
La Bize
in the Jura, France & Switzerland. Very annoying, also for me. Dutch winds don't have a name. Direction and strength is enough.
Then there is an essential difference between wind and hills that David Hembrow
overlooked
. The wind is there or isn't. That hill will never move. Also, houses and trees can give effective shelter against wind, but not against hills. Winds up to 5Bft aren't any serious issue and those above 6Bft are not very abundant, even not in The Netherlands.